Introduction
Are you ready for an adventure unlike any other? Experience the ultimate thrill and book a breathtaking helicopter ride in Dubai! Prepare to be amazed as you soar through the sky, taking in the stunning views of this mesmerizing city from above. Whether you're a thrill-seeker or simply looking for a unique way to explore Dubai, a helicopter ride is sure to leave you with unforgettable memories. In this article, we will dive into the exhilarating experience of booking a helicopter ride in Dubai and why it should be at the top of your bucket list.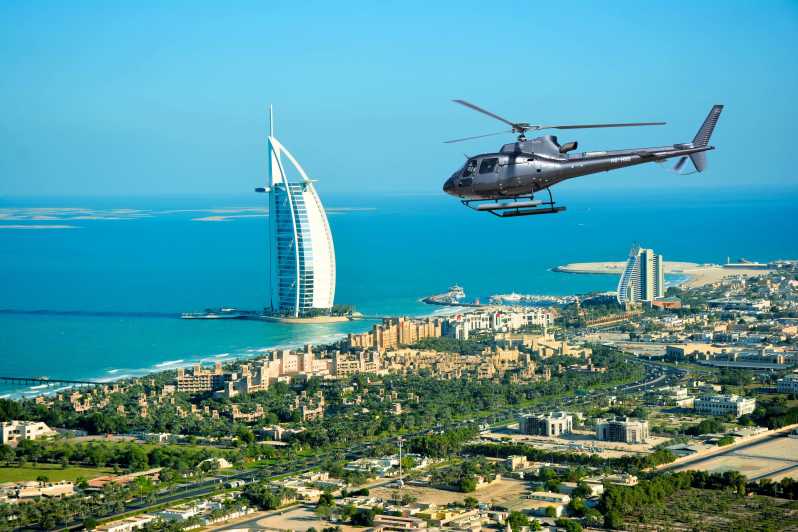 The Beauty of Dubai from Above
Dubai is known for its iconic skyline, luxurious resorts, and man-made wonders. However, experiencing all of these from ground level doesn't do justice to their grandeur. When you book a helicopter ride in Dubai, you get to witness the city's true beauty from above. Imagine soaring through the sky and gazing down at the Palm Jumeirah, an architectural marvel shaped like a palm tree. The view of the world-famous Burj Khalifa, standing tall amidst the cityscape, is simply awe-inspiring. With a bird's-eye view of Dubai Marina, you'll witness the intricate network of canals and skyscrapers that make up this vibrant neighborhood.
How to Book Your Helicopter Ride in Dubai?
Booking a helicopter ride in Dubai is easier than you may think. There are several reputable tour operators that offer this thrilling experience. You can either book your ride online or visit their physical locations to make a reservation. It is recommended to book in advance as these rides tend to sell out quickly due to their popularity.
To book your helicopter ride in Dubai, follow these simple steps:
Research different tour operators: Look for reputable tour operators that offer helicopter rides in Dubai. Read reviews and compare prices to find the best option for you.
Choose your ride duration: Most tour operators offer different ride durations ranging from 12 minutes to an hour. Decide how long you want your experience to be and select the appropriate package.
Check availability: Once you've chosen a tour operator and the desired duration, check for available time slots. Make sure to book in advance to secure your preferred date and time.
Make a reservation: After selecting the date and time, proceed with making a reservation. Provide all necessary information, including your name, contact details, and any special requests.
Payment: Pay for your helicopter ride using the available payment options provided by the tour operator. Double-check all the details before confirming your booking.
Congratulations! You've successfully booked your helicopter ride in Dubai. Now it's time to prepare for an experience of a lifetime.
FAQs (Frequently Asked Questions)
Q: How much does it cost to book a helicopter ride in Dubai?
A: The cost of booking a helicopter ride in Dubai varies depending on the duration of the ride and the tour operator you choose. Prices typically range from AED 600 to AED 2500 per person.
Q: Are there any age or weight restrictions for helicopter rides in Dubai?
A: Yes, there are certain age and weight restrictions imposed by tour operators for safety reasons. Children under a certain age may not be allowed or may require parental consent. Additionally, there is usually a weight limit per passenger to ensure proper balance inside the helicopter.
Q: Can I bring my camera or phone during the helicopter ride?
A: Yes, most tour operators allow passengers to bring cameras and phones on board. However, it is advisable to check with the specific tour operator beforehand as some may have certain restrictions or guidelines regarding photography during the flight.
Q: Is it safe to book a helicopter ride in Dubai?
A: Yes, booking a helicopter ride in Dubai is generally safe as long as you choose a reputable tour operator. These operators adhere to strict safety regulations and employ experienced pilots who prioritize passenger safety.
Q: What should I wear for a helicopter ride in Dubai?
A: It is recommended to wear comfortable clothing and closed-toe shoes for a helicopter ride in Dubai. Avoid loose accessories or clothing that may get tangled during the flight. Additionally, consider wearing sunscreen and sunglasses to protect yourself from the sun's rays.
Q: Can I book a private helicopter ride for a special occasion or event?
A: Yes, many tour operators offer private helicopter rides for special occasions such as birthdays, anniversaries, or proposals. Contact the tour operators directly to discuss your requirements and make arrangements accordingly.
Conclusion
Booking a helicopter ride in Dubai is an experience like no other. From soaring above the iconic landmarks to witnessing the city's remarkable beauty from above, it's an adventure that will leave you with memories to last a lifetime. Follow the simple steps mentioned earlier to book your ride and prepare for an exhilarating journey through the skies of Dubai. Don't miss out on this ultimate thrill – book your helicopter ride in Dubai today!