Introduction
Dubai is known for its luxurious and extravagant experiences, and one of the most thrilling ways to explore this vibrant city is from the sky. Imagine soaring above the iconic Atlantis hotel, taking in breathtaking views of the Palm Jumeirah and the sparkling Arabian Gulf. A helicopter ride over Dubai is a once-in-a-lifetime experience that will leave you in awe of this mesmerizing city. In this article, we will delve into the details of booking a helicopter ride in Dubai, specifically focusing on the unforgettable journey to Atlantis.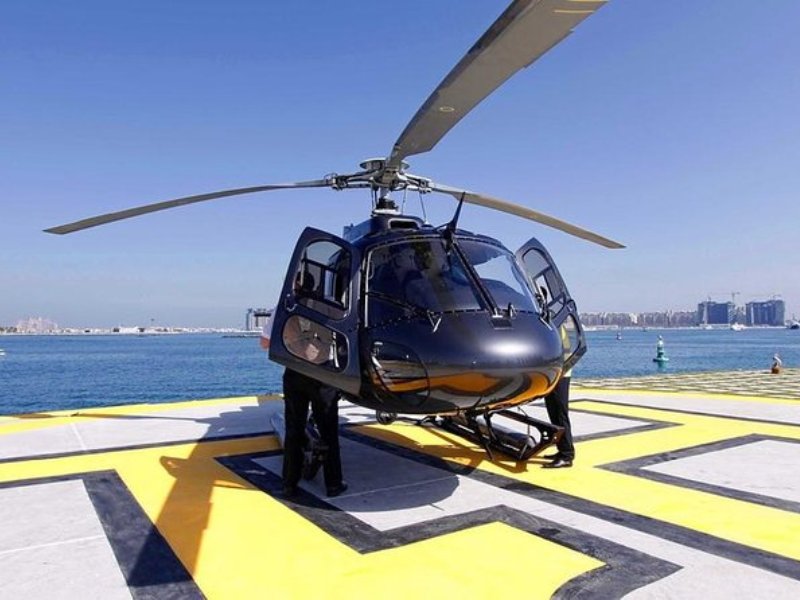 The Incredible Atlantis Hotel: A Jewel in Dubai's Crown
Dubai's Atlantis hotel is an architectural marvel that stands as a symbol of luxury and opulence. Situated on the Palm Jumeirah, an artificial island shaped like a palm tree, this majestic resort offers unrivaled views of the Arabian Gulf. With its stunning design and world-class amenities, the Atlantis hotel has become an iconic landmark in Dubai.
Exploring Atlantis from Above: Book a Helicopter Ride in Dubai
If you want to truly appreciate the grandeur of Atlantis and its surroundings, booking a helicopter ride is a must. It provides a unique perspective that cannot be replicated by any other means of transportation. By soaring high above the city, you will be able to witness the magnificence of this architectural masterpiece and take in panoramic views that will leave you speechless.
How to Book a Helicopter Ride in Dubai?
Booking a helicopter ride in Dubai is quite simple. There are several reputable companies that offer this exhilarating experience. Here are a few steps to guide you through the process:
Do your research: Look for reliable helicopter tour operators in Dubai.
Compare prices and packages: Consider factors such as flight duration, route, and additional services.
Read reviews: Check online reviews to ensure the company has a good reputation.
Make a reservation: Once you have chosen a helicopter tour operator, contact them to make a reservation.
Prepare for the flight: Follow the instructions provided by the tour operator regarding what to wear and what not to bring on board.
Helicopter Atlantis Dubai: The Ultimate Experience
The highlight of any helicopter ride in Dubai is undoubtedly the Atlantis hotel. As you soar above this magnificent resort, you will be captivated by its sheer size and grandeur. The aerial view provides a unique perspective, allowing you to admire the intricate design and architectural brilliance of Atlantis.
12-Minute Helicopter Ride Dubai: A Thrilling Adventure
Most helicopter tours that include Atlantis offer a 12-minute flight duration. Within these few minutes, you will be taken on an adrenaline-pumping journey that showcases the best of Dubai's landmarks. From the moment you take off, till the moment you land, every second will be filled with excitement and wonder.
# Helicopter Sightseeing Dubai: A Bird's Eye View of Dubai's Attractions
While Atlantis is undeniably the star of the show during a helicopter ride in Dubai, there are several other attractions that you will get to see from above. Some of these include:
Burj Khalifa: The tallest building in the world stands tall and proud amidst Dubai's glittering skyline.
The Palm Jumeirah: This iconic man-made island is shaped like a palm tree and is home to a host of luxury resorts and residences.
The World Islands: A collection of artificial islands designed to resemble various continents on Earth.
Burj Al Arab: Often referred to as the world's most luxurious hotel, Burj Al Arab is known for its sail-like shape and extravagant amenities.
## Book Helicopter Ride Dubai Now for an Unforgettable Experience
If you're ready to embark on a thrilling adventure and discover the awe-inspiring Atlantis from a helicopter, don't wait any longer. Book your helicopter ride in Dubai today and get ready to experience the city like never before. It's an opportunity of a lifetime that you wouldn't want to miss.
Frequently Asked Questions (FAQs)
1. How much does it cost to book a helicopter ride in Dubai?
The cost of booking a helicopter ride in Dubai can vary depending on factors such as flight duration and additional services. On average, a 12-minute helicopter ride over Atlantis can range from $200 to $300 per person.
2. Is it safe to take a helicopter ride in Dubai?
Yes, taking a helicopter ride in Dubai is considered safe. The tour operators adhere to strict safety regulations and have experienced pilots who are well-trained in handling these flights.
3. Can I take photos during the helicopter ride?
Absolutely! In fact, capturing the breathtaking views of Atlantis and Dubai's skyline is one of the highlights of the experience. Just make sure to follow any photography guidelines provided by the tour operator.
4. Can children participate in the helicopter ride?
Yes, children are usually allowed to participate in helicopter rides in Dubai, but there may be age restrictions depending on the tour operator. It's best to check with them beforehand.
5. What should I wear for a helicopter ride?
It is recommended to wear comfortable clothing and closed-toe shoes for a helicopter ride in Dubai. Avoid loose accessories that may fly off during the flight.
6. Can I book a private helicopter ride for special occasions?
Yes, many tour operators offer private helicopter rides for special occasions such as birthdays or anniversaries. These can be customized according to your preferences and requirements.
Conclusion
A helicopter ride over Atlantis in Dubai is an experience unlike any other. From the moment you step into the helicopter to the moment you touch down, you will be filled with awe and wonder. The panoramic views of Atlantis, the Palm Jumeirah, and Dubai's iconic landmarks will leave an indelible mark on your memory. So, don't hesitate to book a helicopter ride in Dubai and embark on this thrilling adventure. It's time to discover the beauty of Atlantis from a whole new perspective.